12V Electric Car Jack With Tire Remover
₦100,000.00
GET DONE IN A BLINK】 Electric car jack takes as short as 5 min to reach Max

【ABSOLUTE SECURITY】Car jack kit will automatically stop working after reaching the height limit. The self-locking deconstruction of the jack can prevent the car from falling suddenly and ensure the safety of the vehicle and the person. The jack head uses a non-slip design: a cross-shaped groove plus particles protruding from the surface to increase friction. The built-in circuit breaker in the jack protects your vehicle wiring from overload.

【BEST CHOICE FOR Cars & SUV】Car jack's two-way power supply (battery clip with 12V DC power socket or car cigarette lighter) allows any adult to change and repair tires at any time on the garage/highway. Permanently lubricated DC motor can provide enough power. The built-in flash LED light can run at night without any other lighting tools. The jack is fully enclosed design, completely waterproof, no oil leakage, to ensure safety during use.

【 MULTI-FUNCTION TOOL BOX】Auto floor jack's entire box parts are precisely inlaid, and the tools in the toolbox will not be misaligned in the event of severe violent misfortune, and it does not occupy the extra space of the trunk of the car, and can be placed under the car seat.

【DRIVING NECESSITY】Car jack kit are indispensable good helpers for garages, farms, highways, and long-distance travel, and are very suitable for emergency roadside tire replacement. Say goodbye to tedious manual disassembly, any adult can easily change tires,no need to ask someone for help to change tires.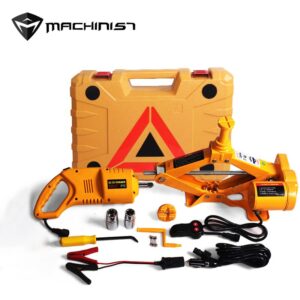 12V Electric Car Jack With Tire Remover